Generation Z key to building shared future, experts say
Share - WeChat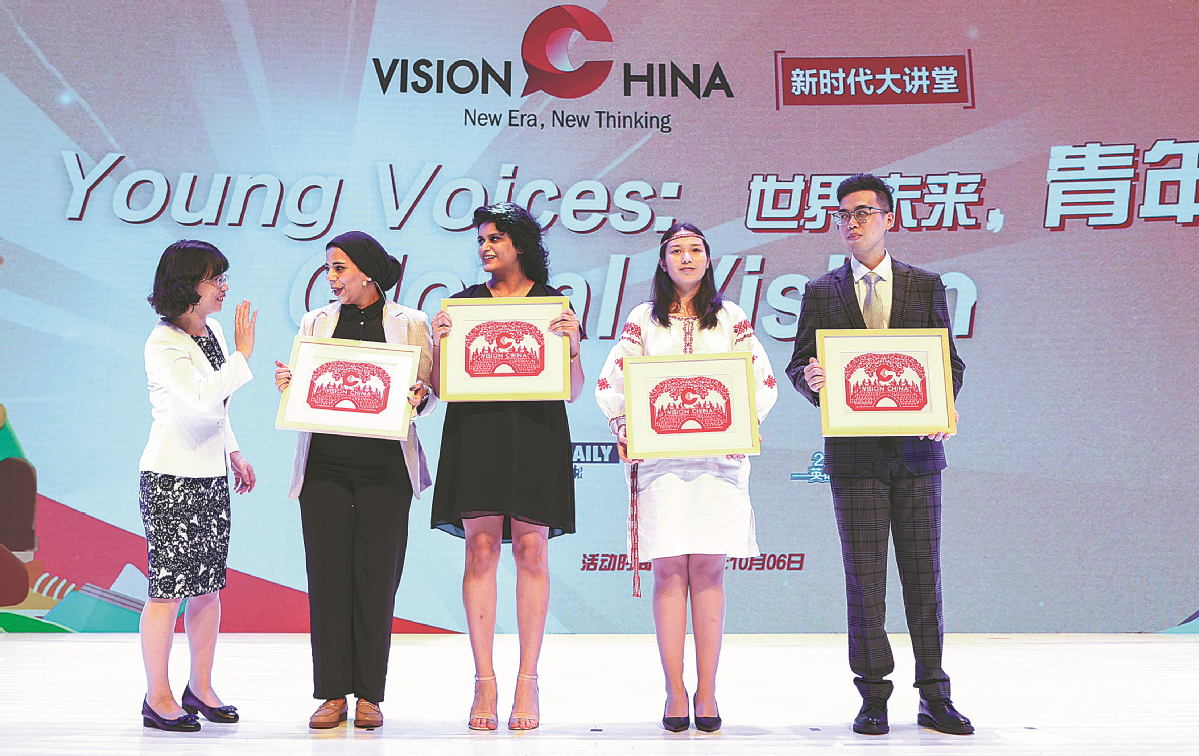 Members of Generation Z from China and around the world should shoulder more responsibility and make greater contributions to building a community with a shared future for mankind, experts said.
They can play an active role in promoting communication among young people around the globe and facilitate people-to-people exchanges worldwide, the latest Vision China event organized by China Daily heard on Wednesday. Gen Z is broadly defined as people born after the mid-1990s.
The event, themed "Young Voices: Global Vision", was held online and offline in Chengdu, Sichuan province.
Jayathma Wickramanayake, the United Nations secretary-general's envoy on youth, said youth have the potential and power to shape their own future.
"With more than 1.8 billion young people around the world, our generation has an enormous opportunity to transform our societies, especially as we look to recover better together from the COVID-19 pandemic," she said via video link.
When the pandemic broke out last year, young people all around the world, including in China, sprang into action and joined the front lines of the response and recovery efforts as first responders and as health workers, leading online and offline information campaigns, supporting the vulnerable in their communities, and in many more ways, she said.
How the world meets the needs and aspirations of young people will define the common future, especially as younger generations become a more influential consumer group and employee demographic, she said.
"Young people are creators, builders and leaders of the future. It is your unwavering passion and motivation to fulfill your dreams and to be agents of positive change that inspires me every day," Wickramanayake said.
At the recently concluded Tokyo Olympic Games, it was inspiring to see so many young people front and center, including the many young refugee athletes who competed. The determination of these young athletes is another example of the courage, strength, determination and hope young people bring to the table, Wickramanayake added.
In his speech at a ceremony marking the Communist Party of China's centenary on July 1, President Xi Jinping called on young people to make it their mission to contribute to national rejuvenation.
"The future belongs to the young people, and our hopes also rest with them," Xi said.
Liu Weiling, deputy editor-in-chief of China Daily, said no matter what age they are or what country they live in, young people are the most active and vibrant force of society.
Like galloping horses, generations of inspirational young people have pushed ahead the wheels of history and made positive contributions to their countries and the entire world, Liu said.
The people of Gen Z, ages 11 to 26, are at a critical stage of personal enrichment and learning. With abundant resources and opportunities waiting for them, they are also living in a world undergoing profound changes unseen in a century and faced with unprecedented and complicated challenges, she said.
"The world belongs to you," she said. "We believe that you will live up to the important responsibility and build a community with a shared future for mankind featuring peace, development, civilization and prosperity."
Five Gen Z speakers-from China, Belarus, the United States, Pakistan and Egypt-were invited to share their views on China through their personal stories and thoughts on global issues.
Launched in early 2018 by China Daily, Vision China invites political, business and academic speakers to tell China's story from a global perspective. Twenty previous talks have been held in cities including Beijing, Tianjin, New York and London.