Veteran conductor plying across northeast
Share - WeChat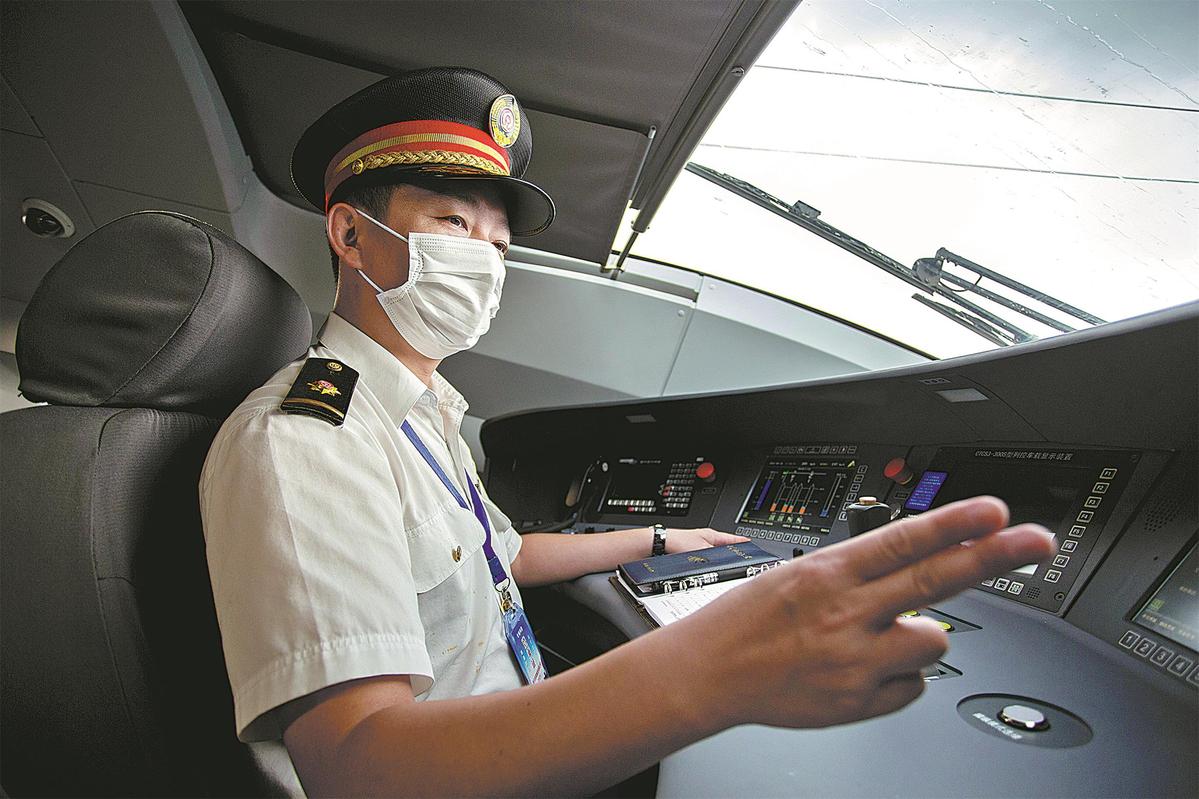 Veteran train engineer Jing Xiangjun turns off his mobile phone when entering the locomotive cab of a bullet train in Northeastern China's Heilongjiang province.
"Heavenly important matters have to be put aside," the 42-year-old said, adding that when the train is barreling down the line, hundreds of people put their lives in his hands.
"Safety is the top priority," Jing said.
Jing was selected to drive the first bullet train service along the high-speed railway connecting Mudanjiang and Jiamusi in Heilongjiang. The 372-kilometer line with a designed speed of 250 km per hour passes areas where the mercury can drop to as low as -40 C. It is China's easternmost high-speed railway, and it's expected to open soon.
A total of 39 experienced engineers have been selected to operate the new line. Jing is one of the best of the elite group.
Since he started operating trains in 1999, right after graduating from college, Jing has been driving freight trains, regular speed trains and bullet trains.
He started to drive bullet trains in 2019, one of the first batch in the province. Jing has accumulated abundant experience operating the massive machines in winter.
In extremely cold weather, it is much more difficult to accelerate or brake. It is harder to stop a train on icy tracks in cold regions compared with warm areas. Driving bullet trains at speeds of up to 250 kph makes things even more challenging.
Driving bullet trains in extremely cold weather requires drivers to be well prepared and know routes intimately, even the angle of slopes, to make journeys as safe as possible.
The most fearful scenario is being unable to stop a train in an emergency, Jing said.
Being selected to operate the new line, Jing has proved to be a wise choice thanks to his preparedness and rapt attention.
Before a series of test runs, Jing meticulously studied routes on paper, memorizing topographical details along with tunnels, bridges and all turns.
When he began the test runs, he put his paper studies into proper practice.
"The data on paper provided to us at first was not 100 percent precise because it required actual driving to test it. For example, distances did not always add up. Sometimes the paper route warned of inclines where the track actually headed lower. Therefore the actual route work was essential to determine accuracy," he said.
Jing provided input during test runs and committed all detailed changes to memory.
He also prepared several back-up plans to respond to different scenarios, such as dealing with heavy snowfalls.
Along the line, the first snow usually arrives in October or early November.
After one or two trips, Jing gets more familiar with the route and his confidence increases.
He is regarded by the local railway department as "more precise than autonomous driving modalities".
In a test run in July, he was asked to run the train manually without the automated systems at 275 kph to test the limits of the line and locomotive.
Although knowing the line very well, Jing still feels exhausted after each trip as conducting a bullet train requires full attention. He therefore has a habit of taking a nap after each journey.
"While behind the controls, I have to be fully focused without the slightest distraction. The train may run too fast if I take my mind off my job for even a moment. A few hundred people are behind me, which is a heavy responsibility. It is also a job. A man has to take his job seriously to get the job done well and take a salary 淘集運自取點," Jing said.
During his leisure time, he likes to play Kings of Glory, a popular mobile game.
Before retiring, Jing's father and grandfather also worked for the railway industry.
As for his son's future career, Jing said he will respect his child's choice.